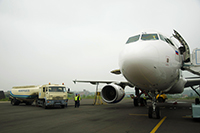 In February 2017 Aerofuels Ulyanovsk (Aerofuels Group of Companies subsidiary company) received a new Certificate of Conformity for the aviation fuel supply of air services in the international airport of Kol'tsovo (Yekaterinburg) to confirm that the company satisfies the requirements for arrangement of a full set of services in aircrafts refueling with jet kero and anti-icing fluid.
At the airport of Kol'tsovo TZK Aerofuels Ulyanovsk has been refueling flights of the Russian and international airlines since January 2016. TZK uses its own aviation fuel for into-plane refueling, as well as up-to-date certified refuelers, and offers to their customer profitable price conditions and a fast, high quality service compliant with all Russian and international norms and requirements.
Aerofuels Ulyanovsk is a member of Aerofuels group refueling complexes network and for over ten years has been successfully operating in the airport of Ulyanovsk-Vostochny to guarantee a high quality level of refueling of the Russian and international air carriers. TZK is equipped with the up-to-date refueling equipment, has its own fuel-oil depot located on the territory of the airport, and a railway siding making it possible to deliver oil products regularly and uninterruptedly.